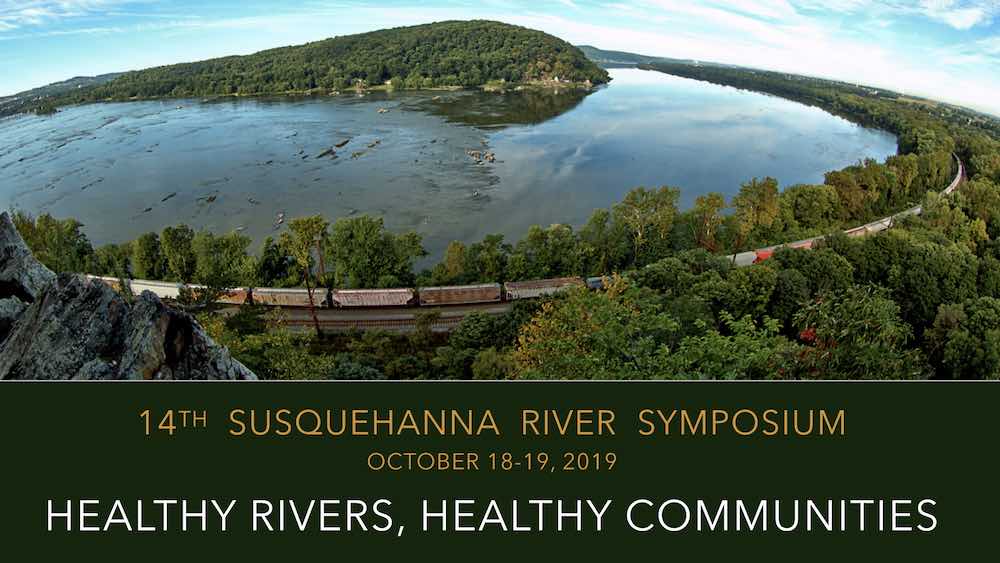 Another year of the Susquehanna River Symposium has come to a close successfully. This year's theme, "Healthy Rivers, Healthy Communities was carefully chosen for many reasons.
Rivers provide a wide range of benefits to society. They provide jobs, and support key economic sectors, nurture social relations and spiritual well-being, and contribute to strategic goals such as food-energy-water security, poverty reduction and climate resilience.


… over-exploitation of its ecosystems disproportionately affects the livelihoods of the citizens of its many river towns, now and for future generations. Bucknell feels that academic institutions play an important role in addressing these inequalities, environmentally, economically, socially, and spiritually. That is why we chose the theme "Healthy Rivers, Healthy Communities" for this year's River Symposium.

– Benjamin Hayes, 14th Susquehanna river symposium program with abstracts
The goals of this year's symposium were "to cultivate knowledge, discovery, and stewardship for the benefit of the Susquehanna River and Chesapeake Bay and its human and natural communities." It seems the goals were met and perhaps exceeded, with many attendees expressing their thoughts and gratitude for this event.
One patron, who has been coming to the symposium for 7 years running, said,
This is such a great event. So many great scientists and great information. It's just really wonderful."
Another said,
It's great that they do all of this for free. So many conferences charge so much money to attend, it's just not realistic. The quality of work here is amazing."
The Greatest Minds of Now & Tomorrow
The quality of the work presented this year by students and presenters was outstanding. Their hard work and passions shined through and it made judging for awards particularly difficult this year. 1st, 2nd, and 3rd place awards were given to Undergraduate research posters and an award was given to both a Graduate and a Post Doctoral/ PhD research poster for their exemplary work.
And the winners are…
Undergraduate Awards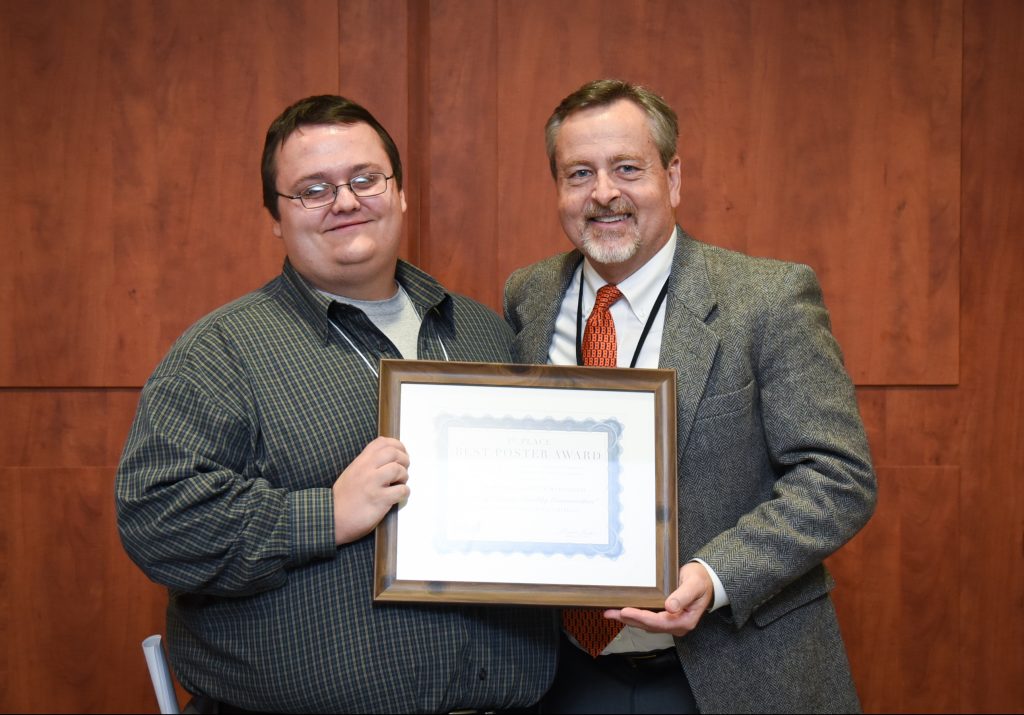 1st Place Winner
Awarded to William Ward, Biology student at Susquehanna University, for his poster "Lethal Effects Of Common Herbicides On An Agriculturally Important Wolf Spider (Pardosa Milvina)."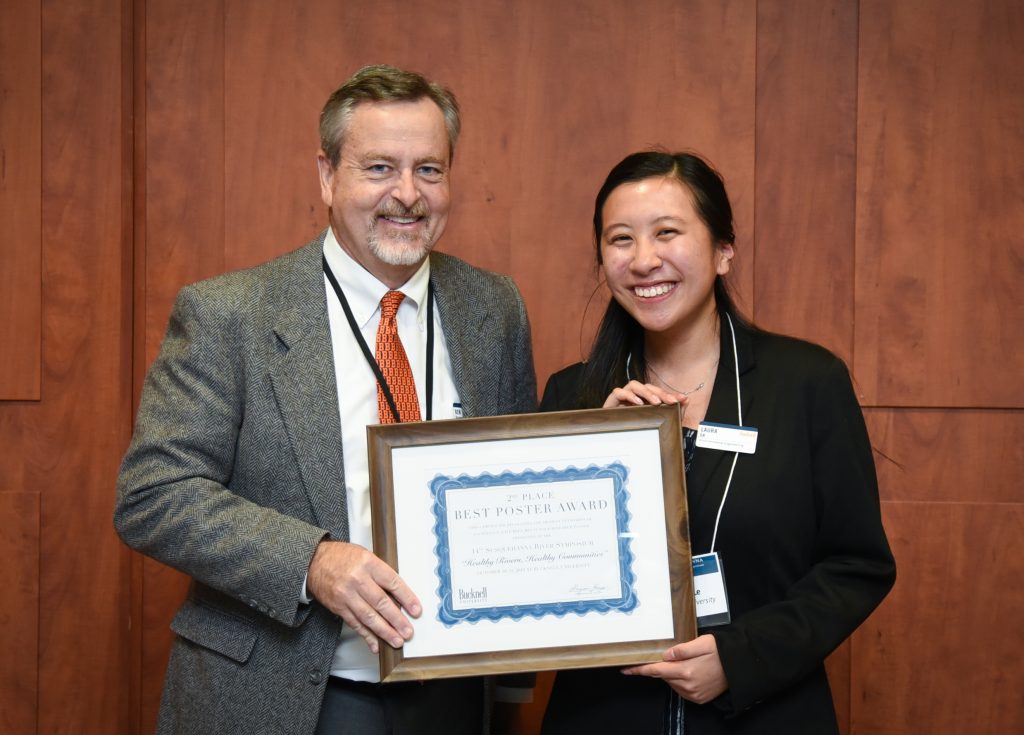 2nd Place Winner
Awarded to Laura Le, Civil & Environmental Engineering student at Bucknell University, for her poster "Implementing Precision Conservation On Turtle Creek Watershed."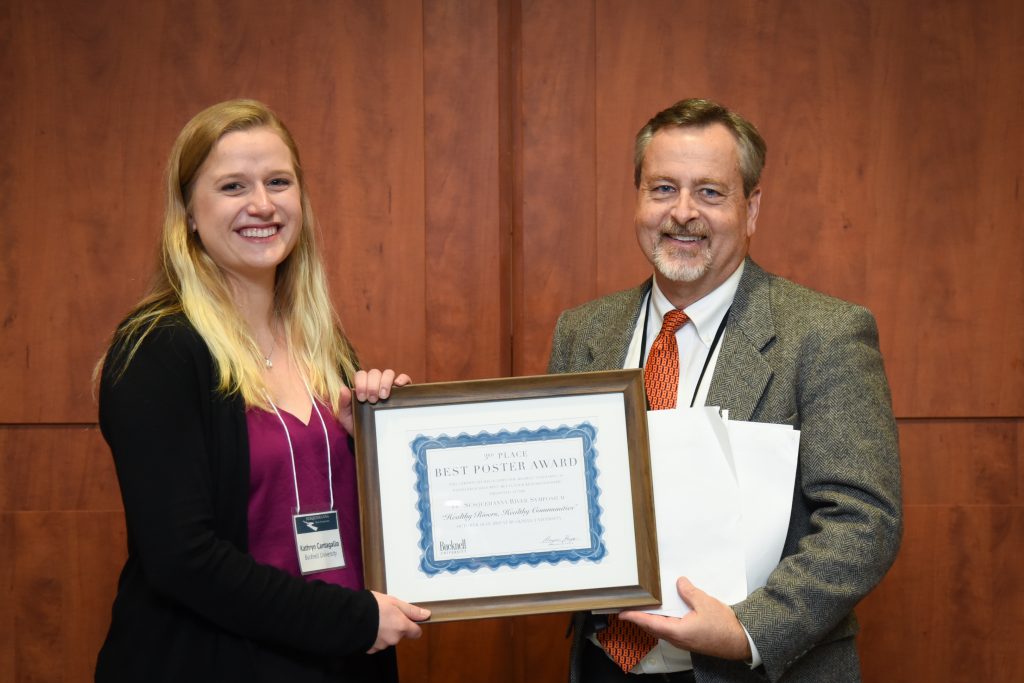 3rd Place Winner
Awarded to Kathryn S. Cantagallo, Biology Student at Bucknell University, for her poster "Carbon Storage and Sequestration On Bucknell Properties: Valuing Campus Natural Capitol."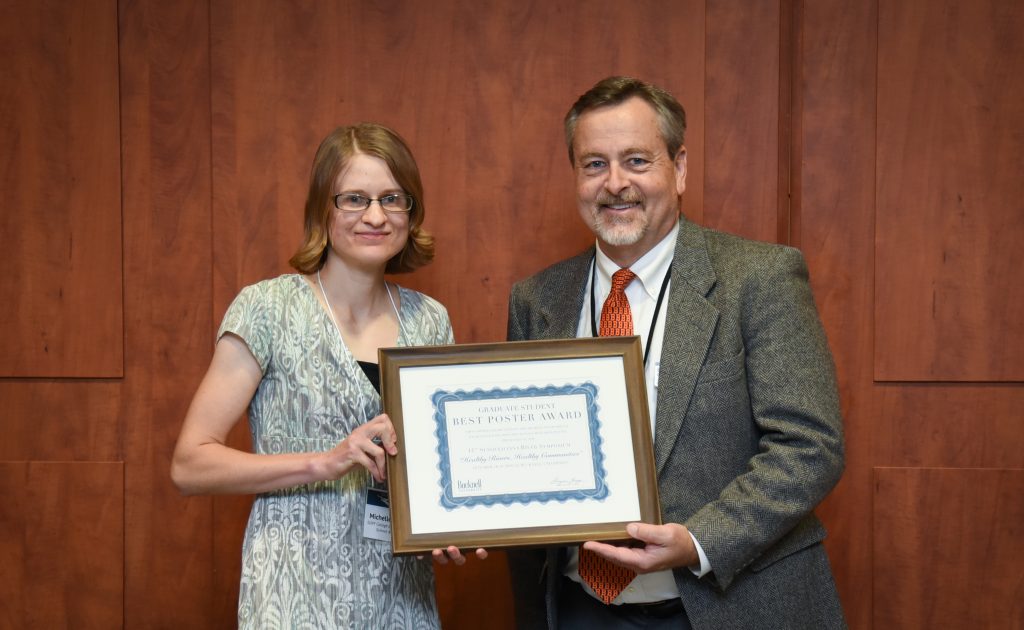 Graduate Award
Awarded to Michelle Herman, Environmental & Forest Biology Graduate Student at SUNY College of Environmental Science & Forestry, for her poster "Ongoing Restoration Of An Eastern Hellbender Population In the Upper Susquehanna River Drainage."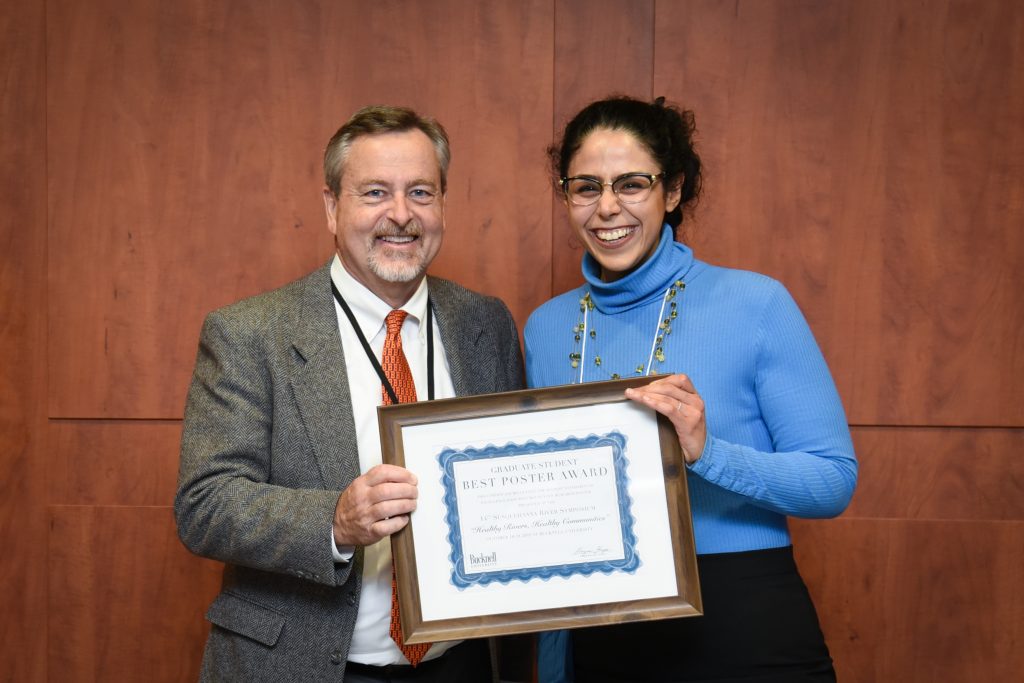 PhD/Post Doctorate Award
Awarded to Mahkameh Zarekarizi, Earth & Environmental Systems Institute at Penn State University, for his poster "Decision Analysis Of Elevating A House To Manage Deeply Uncertain Flood Risks."
We want to say congratulations to all the winners for all their hard work. We also want to thank everyone who submitted a poster or an oral presentation. We are so happy to have had you with us and your work was high quality. You should all be very proud.
The Knowledge of Many
Many inspiring speakers were invited to the symposium and it was unanimous among the attendees that they were top-notch and added so much to this year's symposium. Invaluable information, research, and experience were shared with students, faculty, staff, community partners, and members of the community. Coming together to make a difference in such an ecologically important resource is the reason behind the River Symposium and why each year improves from what we've learned and how we've grown.
This Year's Keynote Speaker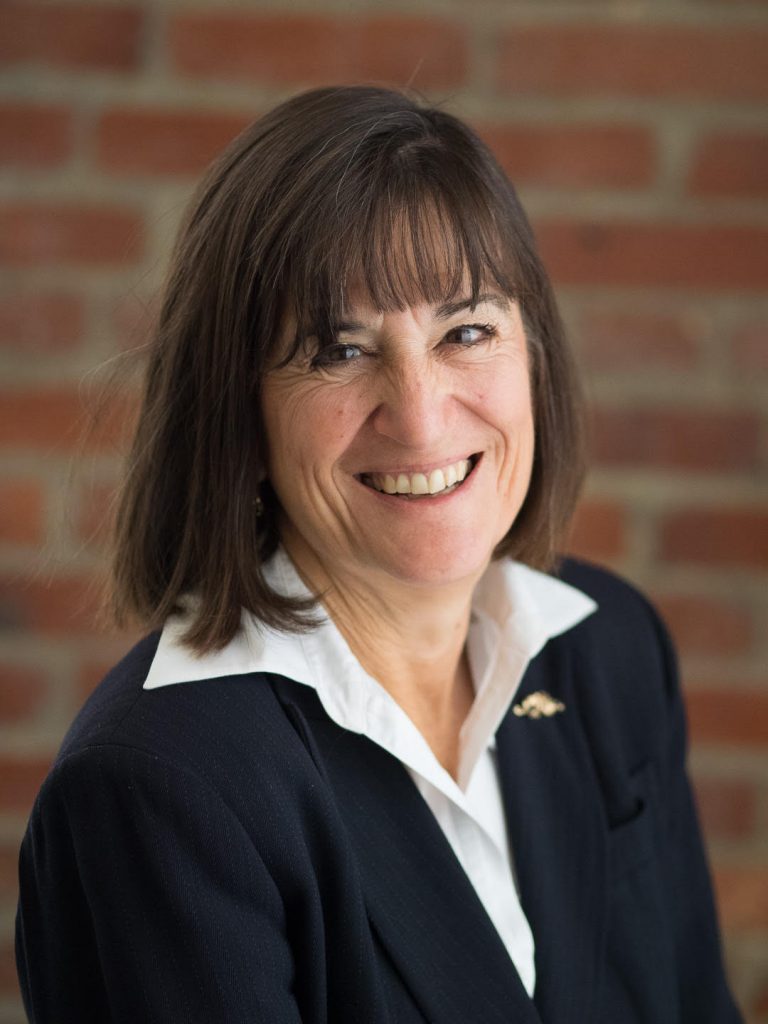 Ann Pesiri Swanson
Executive Director
Chesapeake Bay Commission
Keynote: "Chesapeake Bay: Lessons Learned From 40 Years of Watershed Management"
Several other speakers touched upon a wide range of subjects such as flood risk, life below water, and restoration to name a few. Speakers this year included:
Presenting Authors:
Lisa Domenica Iulo
Associate Professor of Architecture
Penn State University
Robert E. Nicholas
Associate Research Professor of Atmospheric Science
Penn State University
Oral Presentation: "Local Resilience Related To Flood Risk in Susquehanna Region Communities."
Synopsis: With the increased risk of flooding in urban centers and agrarian communities which causes economic, environmental, and social stresses, the Penn State Initiative for Resilient Communities (PSIRC) launched a pilot project with the borough of Selinsgrove to use "the tools, methods, and lessons learned [] to inform decision-making for sustainability and resilience to riverine flooding in communities throughout the Chesapeake Bay Watershed and beyond."


Presenting Authors:


Geoffrey D. Smith
Susquehanna River Biologist
PA Fish & Boat Commission
Megan Kepler Schall
Assistant Professor of Biology
Penn State Hazleton


Oral Presentation:

"Restoring Floodplains – A Regional Approach To Improve Water Quality and Community Resiliency."


Synopsis (from abstract):

Discussion of how "a diverse set of agency and academic researchers partnered and leveraged their respective resources to confront the issue of disease-related mortality of… Smallmouth Bass and population declines in the Susquehanna River." With an ever-growing complexity of pollutants and pathogens affecting fish health, collaborations such as this may very well become the norm or even a necessity.

Sid Jamieson
Cayuga Nation Iroquois
Bucknell University Lacrosse Coach (retired)


Oral Presentation:

"Indigenous People's Perspective."


Synopsis:

As a Native American of the Cayuga Nation Iroquois, member of the advisory board to the Chesapeake Bay Conservancy, and Faith-Keeper and Board of Directors member of the Greenwoods Land Conservancy, Sid was able to give us a comprehensive perspective of indigenous peoples regarding the Susquehanna River, its challenges, and its importance.

Presenting Authors:


Kelly Gutshall
President
Land Studies, Inc.
Justin Spangler
Water Resources Engineer
Land Studies Inc.


Oral Presentation:

"Restoring Floodplains – A Regional Approach To Improve Water Quality and Community Resiliency."


Synopsis:

"Restoration of our stream and floodplain systems with an understanding of our 200 year agricultural impact is providing answers to many of the most challenging water resource issues we are facing today… flood resiliency, water quality, and bio-diversity." This presentation included case studies outlining challenges, benefits and returns on investment of these restoration projects.

Honoring Someone Important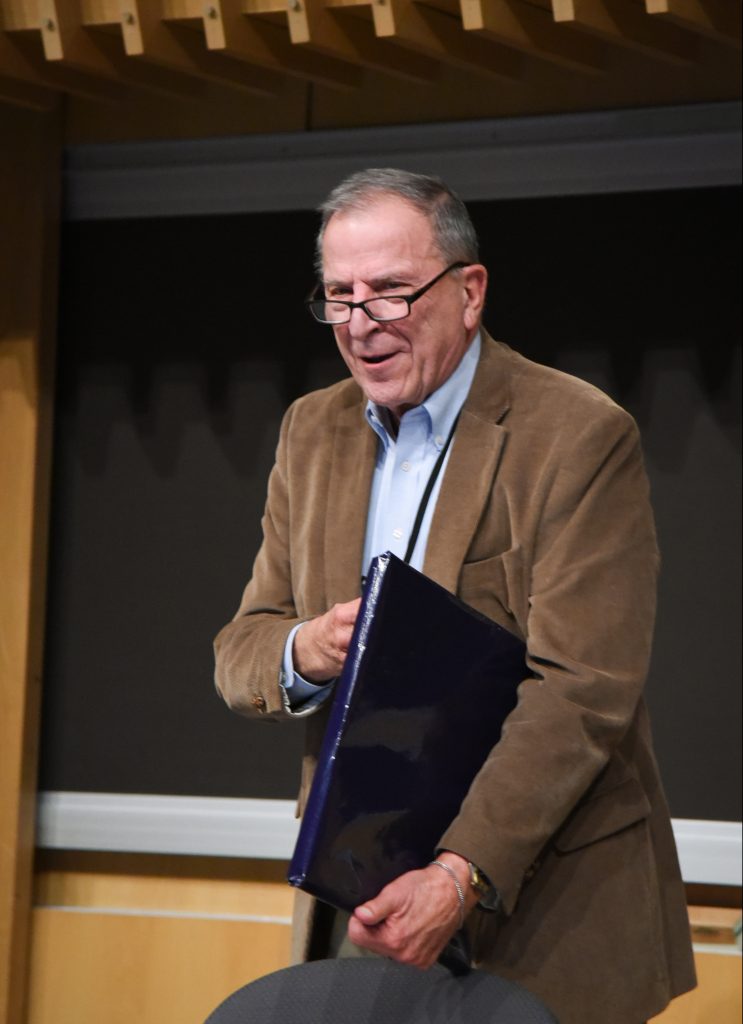 A great honor was also bestowed for the first time at this year's symposium, the title of Honorary Symposium Chair. Presented to H.W. "Skip" Wieder by Executive Director of the Foundation for PA Watersheds, John Dawes, and President of Bucknell University, John Bravman. Skip has been an integral part of the River Symposium from the very beginning, helping to create the very first River Symposium in October 2006. He's also been responsible for securing countless dollars for faculty research and student internships concerning the Susquehanna River and its regions. He is a vital part of why so many gather together each year to share and learn in the ever growing caliber of research, knowledge and action concerning the Susquehanna River. We would like to thank Skip for his commitment to the river and its communities and congratulate him as Honorary Symposium Chair.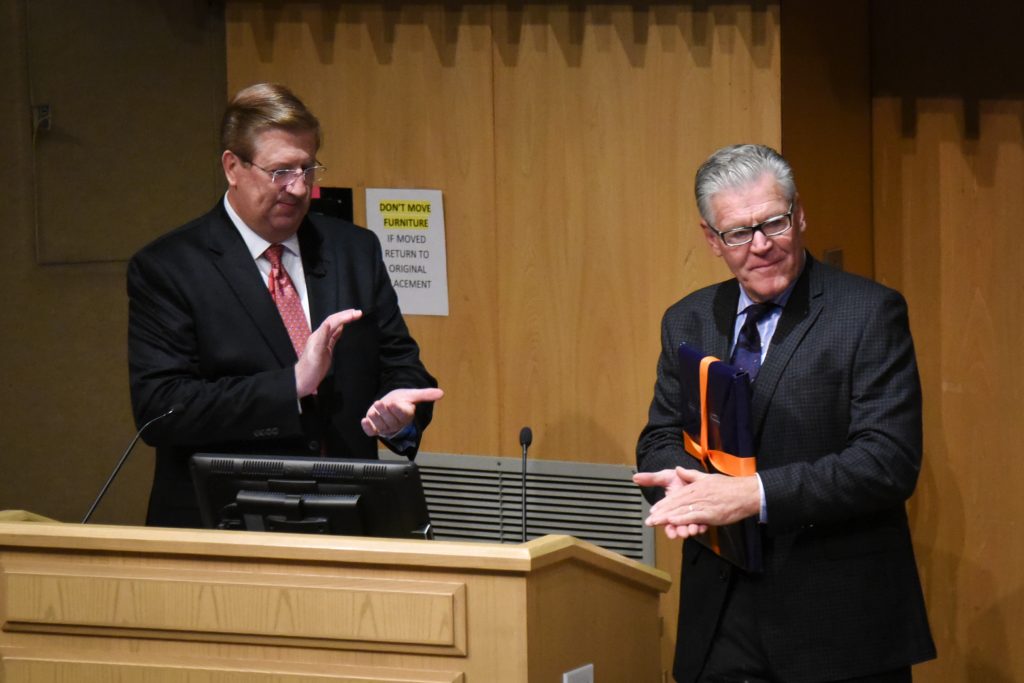 Getting Involved
Each year the River Symposium draws in exhibitors from state and local agencies as well as other entities in and around PA who have a role in the river's health and its communities. This year was no exception. So many great people with a variety of experience and resources joined us on Saturday, Oct. 19th to share with attendees what they do, why they do it, and how others can get involved. We'd like to say a special thank you to those that took the time and shared their Saturday with us:
As well as Bucknell University's Associate Professor of Environmental Studies and Sciences, Andrew Stuhl and Bachelor of Arts student, Bethany Fitch 23′.
A Step Into the Future
This year, the symposium committee looked to social media to encourage those attending to have fun and share their favorite moments with us and the world. Thus was born our hashtag, #SusquehannaRiverSymposium.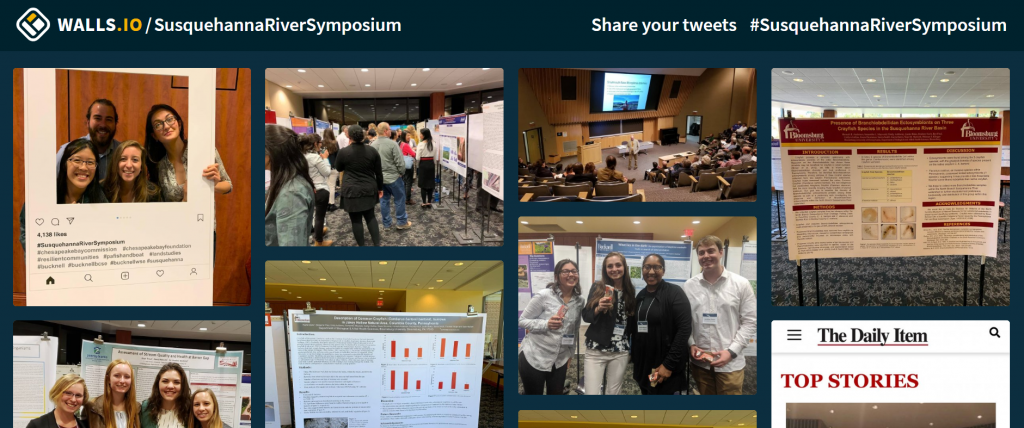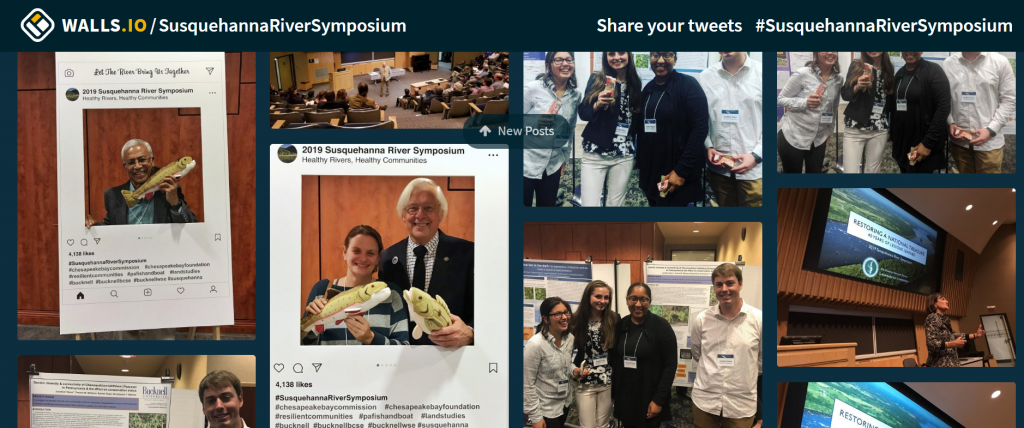 It seems many enjoyed sharing their photos within the proceedings. That many more took turns posing in our photo booth area complete with giant frame and stuffed fish friends. People really took to the idea and had fun with it and so did we.
Here are some of our personal favorites…
Thanks For Another Great Year!
Each year we put our passion, dedication, and hard work into the River Symposium to ensure we can bring this important event free and open to the public. But each year we couldn't do it without the support of our sponsors. This year, we would like to say thank you to our sponsors, Bucknell University's Office of the Provost, and the PA Water Resources Research Center (PAWRRC). Your sponsorship is invaluable and we thank you for your support.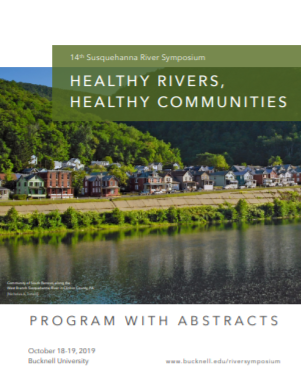 To learn more about any of this year's speakers, our Honorary Chair, or proceedings, you can view, download, and/or print the program by clicking HERE.
For general information about the symposium and this year's theme, Healthy Rivers, Healthy Communities, visit the Susquehanna River Symposium Website.